Education
Other educational institutions
Adult Education Centre Bocholt-Rhede-Isselburg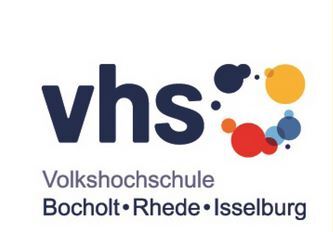 Learning and education for all! This is the motto of the Adult Education Centre. It is the municipal further education centre for the towns of Bocholt, Rhede and Isselburg. The Adult Education Centre offers a comprehensive and citizen-oriented range of educational programmes in areas such as politics, literature, art, humanities, IT, experiencing nature, technology, law, foreign languages, German, study trips and journeys and much more. There is much to discover.
VHS Bocholt-Rhede-Isselburg
Bocholt office
Stenerner Weg 14a
46397 Bocholt
Phone +49 2871 953-697
Fax +49 2871 25 22 49
Opening hours Bocholt office:
Mon, Tue: 8.30 - 12.30 h, 14 - 16.30 h
Thu: 8.30 a.m. - 12.30 p.m., 2 p.m. - 6 p.m.
Wed, Fri: 8.30 - 12.30, closed in the evening

Changed opening hours during school holidays
---
Music School Bocholt-Isselburg
Music is the language that connects all people. At the Bocholt-Isselburg Music School, children as well as young people and adults learn to understand this language - and to express their own creativity in it. A wide range of different subjects and instruments are taught here, from string instruments to brass and woodwind instruments to singing.
Main office Bocholt
Director: Claudia Borgers
Bocholt-Isselburg School of Music
Salierstraße 6
46395 Bocholt
Phone: +49 2871 239-170
Send e-mail
Opening hours:
Mon - Thurs: 10 - 12 h, 14 - 16.30 h
Fr: 10 - 12 h
Branch office Isselburg
Branch manager: Guido Schrader
Music School Bocholt-Isselburg
Hüttenstraße 33-35
46419 Isselburg
Phone: +49 2874 911-64
Send e-mail
Opening hours:
Wed + Thu: 9 - 12 h, 14 - 17 h
---
Bocholt City Library
Books, media and interesting events for all tastes and age groups are available at the media centre at the old railway station. With the reading card, well over 150,000 media can be borrowed on site or online and easily managed.
Bocholt City Library
Hindenburgstraße 5
46395 Bocholt
Phone: +49 2871 2589-0
Fax: +49 2871 2589-116
E-mail:
Opening hours:
Tuesday, Thursday: 10 - 12 h, 14 - 19 h
Wednesday, Friday: 10 - 12 h, 14 - 18 h
Saturday: 10 - 13 h
Monday: closed
---
YOUNG UNI in Bocholt
Discover, learn, research: The JUNGE UNI in Bocholt is an additional educational offer for children and young people between the ages of 6 and 18. In lectures, workshops, seminars or excursions, children and young people are enthused about the world of science, exploration and experience. The aim is to arouse curiosity for the so-called MINT subjects of mathematics, computer science, natural science and technology.
Underage participants can get their first taste of "university" air here and experience science up close and try it out for themselves.
JUNGE UNI in Bocholt
Stenerner Weg 14a
46397 Bocholt

Phone +49 2871 953-699 or +49 2871 2522-16
Fax +49 2871 25 22-49
E-mail
Office hours:
Mon - Fri: 8 am - 12 pm (by telephone and by appointment)
---
EUROPE DIRECT Bocholt
The EUROPE DIRECT Bocholt is the local contact point for questions and engagement around the European Union. The EUROPE DIRECT provides citizens with information, advice, help and answers to questions about Europe and current European political events. The EUROPE DIRECT promotes the involvement of citizens who are committed to the European idea.
EUROPE DIRECT Bocholt
Kaiser-Wilhelm-Straße 52-28
46395 Bocholt
Sonja Wießmeier
Phone +49 2871 953-259
E-mail
Opening hours:
Tue: 9 a.m. - 2 p.m.
Wed, Thu: 9 - 12.30 h, 14 - 17 h