Project: Green Centre
The park in the Fildeken-Rosenberg neighbourhood
It is a leisure and living space in the middle of the neighbourhood: the Grüne Mitte.
On an area of four hectares, it combines ecology and recreational space for the residents of the Fildeken-Rosenberg neighbourhood. At the same time, the measures expanded the break facilities for pupils of the Bocholt Comprehensive School.
The extension and further development of the Biemenhorst primary school (Weserstraße site) includes the repair and extension of the existing schoolyard areas and the preparation of the outdoor facilities for the open all-day school.
The measures are part of the integrated action concept Fildeken-Rosenberg.
---
Overview: The "Green Centre" in figures
About the park:
4 hectares of contiguous open space with 1000 metres of path network.
approx. 90 new trees and 1600 m² of semi-natural field hedges
more than 12,000 m² of wildflower meadows and gravel lawns
New recreational facilities:
220 m² playground area for different age groups
1000 m² exercise meadow for dogs
180 m² outdoor fitness area with exercise equipment
Newvolleyball field and football pitch
Schoolyard extension of the comprehensive school:
5,000 m² extended schoolyard area
approx. 400 m² terrace of the refectory
New climbing spiral in the schoolyard
15 new trees and approx. 1000 m² of insect-friendly perennial plants
Overview: The "Biemenhorst Primary School" in figures
Redesign of the outdoor facilities at Biemenhorst School:
Play hill with slide
New bicycle parking spaces
Balancing apparatus and climbing combination for OGS schoolyard
Approx. 250 m² of insect-friendly perennial plants
15 new trees
Trees preserved as far as possible
When redesigning the Green Centre, care was also taken to preserve existing trees and shrubs wherever possible. Existing trees were included in the design of the Green Centre and taken into account in the routing of the path, among other things.
The Little Owl is breeding again this year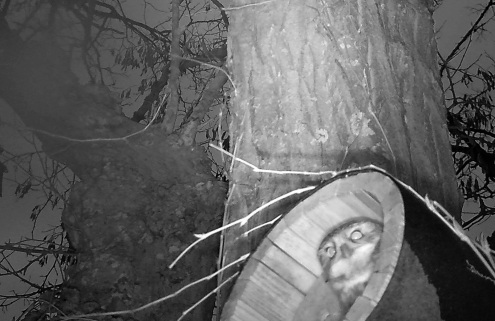 The Green Centre is not only an open space for the neighbourhood but also a habitat for a very special inhabitant: the Little Owl.
A long-time resident pair of Little Owls will breed there again in 2023. The concerns of the Little Owl were given special consideration in the redesign of the Green Centre, for example in the selection and arrangement of the vegetation.
A mosaic of structurally rich meadows and low grassy areas was integrated into the park landscape, which is divided by hedge structures. This provides a habitat for prey animals and, in combination with numerous perching posts, good hunting conditions for the Little Owl, which it needs to care for its offspring.
Outlook: The "Rosenberg green corridor
As the third sub-measure, work on the Rosenberg green corridor is to begin this year. The planning work has already been completed. In the area of the green corridor, the open spaces are to be upgraded and a diverse range of activities for all age groups is to be created.
Another goal: After the redesign, a continuous path is to connect the green corridor.
Gallery: The Green Centre