Bocholt's neighbours
Bocholt is surrounded by pretty towns and interesting places on both sides of the German-Dutch border. These are easy to reach by bicycle on signposted cycle paths.
Rhede
The charming small town of Rhede is about 6 km away from Bocholt. The praline factory, the toy museum, Rhede Castle and St. Gudula's Parish Church are among the sights of this town of approx. 19,500 inhabitants.
Isselburg
In Isselburg you can visit one of the best-known moated castles in the Münsterland region, the Anholt moated castle with its impressive park. Right next door, 50 animal species can be observed in the biotope wildlife park "Anholter Schweiz" - the showcase of nature.
The Wasserburg Anholt golf club and the Leiting pony farm are other attractive destinations.
Hamminkeln
The town Hamminkeln is part of the western part of the nature park "Hohe Mark", with the popular nature reserve Dingdener Heide, one of the largest wetland biotopes in North Rhine-Westphalia. The Konstantinforst invites you to go hiking, cycling or on signposted Nordic walking excursions.
Winterswijk, NL
In addition to culturally and historically valuable natural areas, Winterswijk is also known for a varied shopping offer around the 500-year-old Jakobskerk. The market with its fish, cheese and vegetable stalls is a popular destination for visitors to Bocholt.
Dinxperlo, NL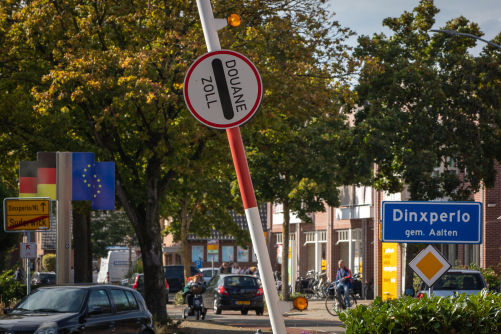 In Dinxperlo, the border runs right through the middle of the village. The history of customs and smuggling is told in the Borderland Museum . The evening market on Fridays from 4 p.m. with traditional baked fish, cheese and the country's typical chips is a popular destination.
Bredevoort and Aalten, NL
The medieval town of Bredevoort is popular with antiquarian book collectors as a book town. As in neighbouring Aalten , cafés and restaurants on the market square invite you to enjoy a cosy "Kopje Koffie".