Bike meets Fat Hen
Attention garden lovers!

Garden fans will get their money's worth on these tours: a castle park, a stylish garden with a pond, a lovingly laid out perennial garden and a truly exceptional farm and herb garden!
DAY 1: Get on your bike: Along the Bocholter-Aa we go to a garden exhibition for pond lovers. Pättkes then lead us to the Heidefeld estate and its large park, designed with great attention to detail. The park is reminiscent of the English gardens and parks of the 19th century. You're sure to spot some fat hens here!
And on to the moated castle of Anholt with its baroque gardens and imposing park. It is wonderful to walk under the old trees and watch the local water birds. Get lost in the maze or sniff the wildflower meadow!
In the evening, redeem your restaurant voucher and enjoy a delicious meal in Bocholt!
DAY 2: The 100 Castles Route takes you through the park landscape of Münsterland to Gemen Castle. In the neighbourhood, many special features can be discovered in a varied and romantic perennial garden covering 3000 square metres: a farmer's and herb garden, small ponds and water features, dry stone walls and a rock garden, as well as fragrant roses and magnificent box hedges everywhere. The route returns past a monastery, nature reserves and the old manor house "Haus Kretier" on the edge of the Bocholt city forest.
After this active, sporty day, it's time for another delicious meal in Bocholt!
DAY 3: Today you can explore Bocholt's city centre. Cafés, a lively colourful weekly market in front of the historic town hall, shopping streets to stroll along and the covered shopping centre Shopping-Arkaden make for a special shopping experience. An idyllic footpath along the Bocholter-Aa leads to the LWL Museum Textilwerk: rattling machines in the weaving mill and exciting, changing exhibitions in the spinning mill tell of Bocholt's textile history.
Or perhaps you would prefer another cycle tour? Then of course we have another excursion tip ready.
Fancy an informative, digital city stroll? Our listening tour app takes you to the best-known sights.
Services
2 overnight stays with breakfast in a ***hotel or ****hotel
Map material with detailed route description
Tour folder " 5 Star Tours around Bocholt
Admission to Gut Heidefeld park incl. 1 coffee and cake
Admission to park Wasserburg Anholt
Admission to perennial garden
2 vouchers for 1 dinner of 15,00 Euro each
Price: from 174,00 Euro p.P. in double room
Bookable: Tourist-Info Bocholt, Nordstraße 14, 46399 Bocholt, Phone: +49 2871 5044 info(at)tourist-info-bocholt(dot)de
---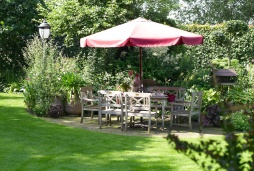 ---
City tour with "Lauschenour" app
---